| | |
| --- | --- |
| Chastity | Vancouver, BC, Canada |
I am


B-Day: May 1

Married to Rassedr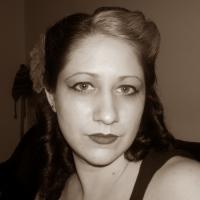 .
| | |
| --- | --- |
| "Change is the essential process of all existence." - Spock | 2012-02-12 18:46:09 ET |
More toy customs ...

Really shitty lighting, so you can't really tell he's got a black eye. I used pastels to achieve the bruising (black, dark green, light green and yellow). The blood was done in acrylic paint - this one is just pigment in a clear base, so it gives a really vivid colour. I figured it would work better than the normal paint.
I repainted all of the skin with an 'olive skin' paint, because, as usual, the skin on these figures is awful.




.
.

O'Brien, done up as a dead redshirt from the original series. Used this photo for reference. I repainted his skin to a slightly nicer tone, then went over it with a couple of layers of pastel. I redid his eyes in a 'cloudy blue' colour to make them look dead.




.
.

and finally, this one was optional - the guy just gave me the equipment and said he didn't expect me to do anything to it, but if I had any ideas, he'd be happy with whatever.
used this photo for reference




.
.

Heading to Seattle at the end of March for the Emerald City Comic Con.
Was thinking of putting together a steampunk outfit, but I'm also thinking of dressing up as Kaylee from Firefly. I did the steampunk thing last year, and I've wanted to put together a Kaylee costume for quite a while. My hair is right for it now (just have to straighten it).

.
.
| | |
| --- | --- |
| HURRRRR ... I'M A HOERS | 2011-12-26 09:13:35 ET |
.
My Cousin is on 4chan all the time, he likes my little pony, and he collects toys.
So I crafted him a meme pony for Christmas ... I present to you, Derpy Hooves:




I purchased an orange pony with yellow hair and apples on her butt, painted her grey and painted her wonky eyes, sculpted wings based on this image, had to figure out what's on her butt and paint that (it's bubbles - heheh), cut and gelled her hair. Sculpted and painted some muffins (apparently her first line was "muffins!"), made a little card-stock basket for them and ta-da!

I hope he likes it!
I don't know much about the show and I didn't care about my little ponies much when I was a kid ... but I kind of want to make one for myself now, she's so bloody cute.
.
.
| | |
| --- | --- |
| hm ... | 2011-09-20 17:50:25 ET |
So, duck (see previous entry) has been approved.
The guy who I sculpted it for is the best friend of Star Trek guy, and was apparently blown away by "Enemy Within" Kirk, and once he saw the duck, he asked if I could paint the hood of the model car.
I will be leaving the painting of the duck up to him - he wants it chrome, and my only silver paint is a bit 'grainy'
He works in a car shop ... I think the basecoat for the hood was done in actual car paint.

The two trek figures I'll be painting for my buddy are Spock, which he wants 'battle damaged' and an O'Brien in a classic uniform that he wants painted as a dead redshirt (well, the dead is optional, but I'm going with it). He's given me free reign again - my only instructions are "green blood on Spock, maybe dirty him up" and "make O'Brien look like anyone but O'Brien"
.
.
| | |
| --- | --- |
| I am not familliar with this movie ... | 2011-09-16 19:34:15 ET |
So, friend who commissioned me to repaint Captain Kirk, asked me to do a couple more trek figures. I was arranging things with him today, and he asked if I sculpted, or knew anyone who did.
I told him I do a little bit once in a while and asked what he needed.

His friend is customizing a model kit to be the car from "Death Proof" and wants a very tiny duck for the hood ornament. (references here and here

So, I got home, and while Rass was watching a show I wasn't to interested in, I grabbed my milliput, a paperclip, my only sculpting tool, and ... poof!




(that's a nickel for size comparison)



I think he's actually a touch too big - the guy wants 3/8" which works out to 9.5mm, this one is about 11mm ... but when working with model kits, 1.5mm can make something look REALLY out of scale.

Just fired off the pictures to my friend 20 mins ago, we'll see what his friend thinks. I don't mind sculpting another one if I have to - it was a fun challenge.
.
.
| | |
| --- | --- |
| Why Hullo There .. | 2011-07-09 14:52:36 ET |
One of our new neighbours dropped by for a visit this afternoon ...




He wanted to come in very badly, but we went out and visited with him instead.
.
.